On Your Side
Featured Issue: Re-assess Your Coverage Needs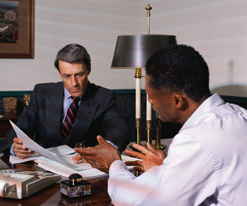 Insurance professionals recommend that you review your policy every year. Here are some of the typical reasons:
Coverage needs change over time.
The insurer may have made changes to your coverage in the past year that you should discuss with your agent.
The value of your home may have increased due to a major home improvement.
Although minimum liability coverage is typically $100,000, you may want to raise your liability to levels recommended by insurers, which is between $300,00 and $500,000. It not only protects you against lawsuits for property damage or injury cased by a family member or pet, it also pays for your legal defense or court-ordered damages.
If you start a home business you will want to increase your coverage to account for business equipment as well as liability coverage.
Did one of your family members leave home and take their belongings with them? Changes in lifestyle, divorce, or the natural departures of grown children, modify the value of your home's contents. Significant savings could be achieved by adjusting the amount of coverage you actually need.
Take the time to talk with your agent or insurance company each time the policy is due for renewal, rather than automatically making the next premium payment. You'll have better peace of mind that your homeowner insurance is meeting your current needs.
©2005 American Homeowners Association (AHA)®

Stamford, Connecticut 06905. All Rights Reserved.

Toll-Free 1-800-470-2242
| | |
| --- | --- |
| | America's #1 Homeowner Organization Since 1994 |