On Your Side
Featured Issue: Know the Score on Your Credit Score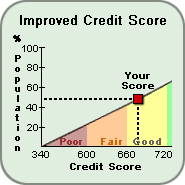 A Good Score Cuts Rates, Saves a Bundle
Your credit score affects the interest rates you pay on credit cards. It affects how much you pay on a mortgage loan. Your credit score can even affect how a prospective employer views your potential value and future with the company. The higher your credit score, the better you look to a new employer.
The higher your credit score, the better risk you appear to other lenders, too. Which leads them to offer you reduced rates of interest.
But, if you have a low credit score, even if it's the result of errors in your credit report, you can end up paying far more for credit than you should.
In short, like it or not, a LOT is riding on something called a credit score. And, what you don't know, can cost you.
So, what exactly IS a credit score?
Where does it come from?
What did you do to earn it?
What can you do to improve it
If your answer to all of the above is, "I'm not sure I know," you're in good company.
Know the Score on Your Credit Score
Most people don't know - and may never know! - what their credit score is; where it comes from; or, how they can affect it. But, those who DO know - or those who take the time to learn - are handsomely rewarded for their efforts.
The good news is that understanding your credit score is NOT complex. And, yes, you CAN affect it. That's the good news. The bad news is that you can affect your credit score as much to your detriment as to your benefit. So, it pays to know the difference, and to avoid doing things that hurt your score, as much as by taking steps to improve it.
| | | | |
| --- | --- | --- | --- |
| A recent report by consumer advocates has concluded that all-too-common errors and discrepancies in credit reports end up costing consumers a bundle: in lowered credit scores and resulting higher interest rates on mortgages and other forms of credit. More . . . | | | If you find items you don't agree with on your credit report it's your right to dispute them. More . . . |
| A 2002 study concluded that credit report errors are common and frequently work against consumers. One in three is affected. The odds are NOT in your favor. More . . . | | | Owing money is a good indicator to lender, as long as you don't owe too much money to too many creditors. This factor counts for 30% of your overall credit score. More . . . |