Top 10 Home Buying Tips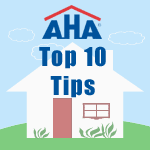 Take Time for Research.
No one is going to call you with an offer to sell you a beautiful, maintenance-free home at a dream price. There is no substitute for research when it comes to finding your dream home. Read the real estate section of your newspaper and other materials. Take time to visit enough homes, schools and neighborhoods to find out for yourself what's available and where. Keep notes - you may even want to use a binder with sections on house hunting, financing, service providers, etc. Make a top ten list of features and amenities you need. Follow your criteria faithfully - don't buy on a whim because you fell in love with the spiral staircase.


Make a Financial Plan and Get Pre-Qualified.
Financial decisions need to be clearly thought out. Loan pre-qualifying helps you determine the home price you can afford and presents you as a genuine prospect to the seller. A lender typically uses the 28% formula (your monthly mortgage cannot exceed 28% of your monthly income) in approving your loan. Getting pre-qualified with a lender and making a thorough financial plan will keep you out of the panic mode, as well as save time and money.


Get the Best Value.
The days of 10-30% annual appreciation went out with the 80s. Today, homebuyers must consider slower growth and changing economic conditions. The classic rule of buying the worst home in the best neighborhood still applies. If you buy with an eye toward improvement, you can customize the home to fit your needs. Make money by purchasing the right home at the right price - stay focused on value.


Put Yourself in the Seller's Shoes.
Take time to understand the seller's original reasons for buying the home, their motivations for selling, and home improvements they have or have not made. Understanding the seller may help you in evaluating whether or not to buy a particular home, and for how much.


Choose the Right Loan.
There are many loans - fixed vs. adjustable rate mortgages (ARMs) - to choose from. Decide which loan fits your particular needs. If this home will be your first or a "transitional home" - one you plan to own for a short time - an ARM may be best for you. If you have found your dream home or plan to raise a family there, you may want the stability of a fixed-rate mortgage. With an ARM, the index determines the future rate. Make sure the index is based on the Cost of Funds Index (COFI) if rates are increasing, and Treasury Bills if rates are decreasing. COFI loans are less volatile over time than loans based on T-Bills; make sure you understand the initial "teaser rate", how long it lasts, and what the real rate will eventually be.


Scrutinize All Loan Costs.
Read all disclosures, especially the closing costs. If you are required to have private mortgage insurance and an escrow account, make sure you understand the terms. Make sure there are no prepayment penalties so that you can use an accelerated prepayment plan. A good mortgage reduction plan can save you tens of thousands in interest costs, and shorten your loan term, with only small extra monthly principal payments. AHA's Intellipay Program can cut 11 years and over $100,000 of interest payments off a typical $150,000, 30-year mortgage.


Shop for the Best Mortgage Deal.
There are over 100,000 mortgage providers competing today for your business. Today's mortgage shopper can apply for a loan directly via the internet; get referred to a loan provider by a real estate agent; or use a mortgage broker to shop for a loan. Avoid comparing apples and oranges while looking for the best deal - compare fixed-rate loans to fixed-rate loans, not to adjustable rate loans. Create a chart that lists different types of loans, fees and interest rates. Or use AHA's Approved Mortgage Lending Program for specially arranged savings on points and closing costs for AHA members from national mortgage lenders.


Sign a Contract That Protects You.
Make sure the contract has provisions allowing you to obtain financing (mortgage finance contingency clause), to inspect the home, and to negotiate any problems you uncover with the seller (home inspection contingency).


Get a Quality Home Inspection.
Obtaining a quality home inspection is absolutely essential for anyone who doesn't want to spend thousands of extra dollars on fixing hidden defects or damage. Make sure that the contract includes a protective clause that makes the final sale contingent on a home inspection. AHA members receive a 10% discount on our Home Inspection benefit.


Hire a Skilled Settlement Attorney.
After jumping through the hoops of finding the right home and financing, the last difficult maneuver is the closing. You will need an experienced settlement attorney to scrutinize all the documents you will sign and help you with last-minute negotiations at the closing table. AHA's legal referral service can help you save 25% on legal fees.