On Your Side
Featured Issue: Discover the Discounts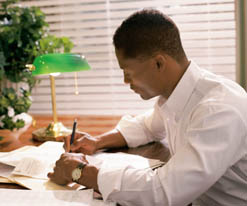 There are a variety of ways in which you can whittle down the cost of homeowners insurance. Some are common sense. Others may surprise you.
Don't overvalue your home by using the purchase price instead of the replacement cost as the proper amount of coverage to buy. Eliminate the value of the land beneath your house. Your premiums will be lower.
Ask your insurer if making upgrades that help protect your house against natural disasters will reduce premiums.
Ask about discounts for purchasing home and auto insurance from the same insurer.
Raise your deductible. A deductible of $1,000 could reduce your premiums by as much as 25%.
Ask about discounts if you install home security devices.
Comparison shop. Then ask your current insurer about possible savings for remaining with the same company.
Group coverage or private insurance may be an option. If you qualify for group coverage through your employer or other professional alliances, savings are often offered. If your home is in a high risk area, and currently purchased through a government program, check out your state department of insurance for assistance in researching possibly low cost private insurance.
Age discounts for retirees are sometimes available.
Don't be afraid to ask about any form of discounts being offered by a company. Don't shop for price alone, though. Look for a financially stable insurer with a reputation for good marks in customer satisfaction.
©2005 American Homeowners Association (AHA)®

Stamford, Connecticut 06905. All Rights Reserved.

Toll-Free 1-800-470-2242
| | |
| --- | --- |
| | America's #1 Homeowner Organization Since 1994 |