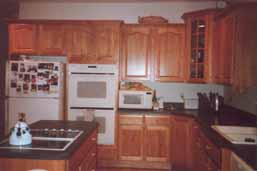 Woods and Islands in the Kitchen
Walking and work surfaces get a lot of attention in the kitchen. Floors take a beating--you need something tough and attractive. And it's hard to create enough counter and storage space for eating and food preparation. Here are two approaches: a wood floor and a kitchen island, as recently espoused in Better Homes and Gardens Magazine.
Wood Floors
If linoleum or tile flooring are boring, don't forget that wood remains a classic alternative. Just remember to invest in the right type to both suit your taste and withstand the punishment from spills, traffic and dirt. At about $11 per square foot, you'll want that investment to pay off. Follow the manufacturer's cleaning guidelines and wipe up spills immediately to prevent stains.
Finish
Although just about any finish is suitable, the toughest is water-based, factory-applied acrylic. The clear acrylic finish touches up easier and lasts longer than oil. Satin finish hides dirt better than high gloss. Trees
The most durable are hardwood species such as oak, maple, and cherry. If the grain stands out, the dirt will stand out less. Shade
Try to choose a color that complements your cabinetry rather than a monochromatic look. In other words, go for light cabinets and dark floor, or vice versa. Don't be fooled by lighting in the showroom--color may look lighter or darker under your kitchen's lighting.
Edges. Get the flooring strips with square edges instead of beveled edges. Square provides impenetrable seams to prevent dirt build-up.
Islands
Things go a lot easier when you're not cramped by traditional counter space. Today's island provides a perfect, practical solution for your food preparation, eating and storage needs. Your design can be versatile. For example, your island doesn't have to contain a cooktop if your need for an additional sink or food prep space is greater. Just remember to make the sink deep enough and the faucet high enough to wash and fill large pots. You may want to install a disposal, too.
If a cooktop is needed, install a downdraft vent inside the island or a hooded vent overhead. Be sure to leave at least 12- inch-wide runs around each side of the cooktop.
Don't have a breakfast nook? By extending the countertop and recessing the cabinet, you create a tabletop and knee space for seating. Just be sure to leave at least 12 inches of countertop area between the chairs and cooktop.
The cabinet is an excellent storage space for drawers or shelves containing cookbooks or appliances. Locating electrical outlets on the sides of the island instead of on top reduces electrical hazards. To reduce nasty kid collisions with the edges, use radius corners.
Surfacing is one key question where price, durability and appearance all enter into the decision. But if you're going for more expensive solid surfacing, the island may be the place to show it off--butcher block for food preparation or granite for baking, for example.