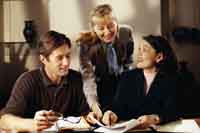 Legal Referral Service
As an AHA member, you receive three free consultations and discounts on services from our network of over 6,000 attorneys and accounting professionals across the nation. When a need arises, you are entitled to one (1) free thirty minute office consultation on each three (3) separate legal matters per year.
HOW TO USE THIS BENEFIT
Call 1-800-541-9701.
Give the customer service representative your name, membership number and the type of legal matter you have.
You will be given the name, address and telephone number of the firm located nearest you.
When you meet with the provider, be sure to bring your AHA membership card.
If you decide to retain the attorney after the consultation, you will be given a preferred rate reduction of 25% off the attorney's normal hourly rate. Virtually all types of legal matters are eligible for these services, including:
Civil/Consumer Issues
Personal/Family Legal Services
Financial Matters
Business Legal Services
Real Estate